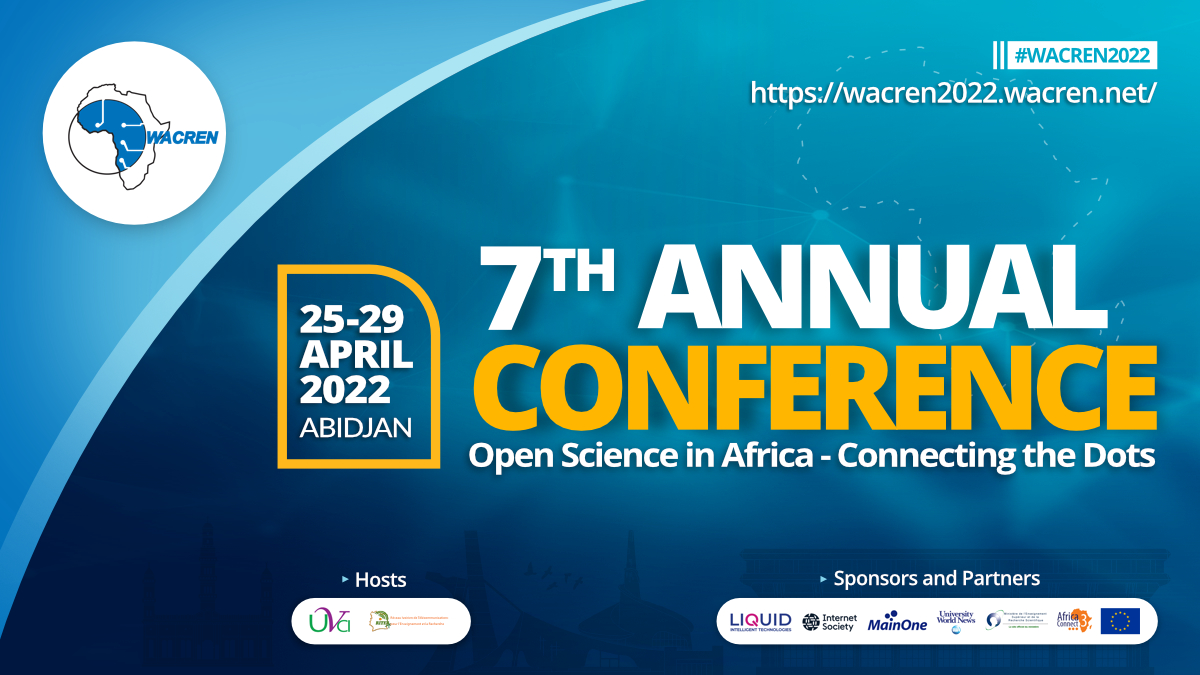 WACREN organise sa 7ème conférence annuelle du 25 au 29 avril 2022 au bord de la lagune Ébrié à Abidjan, la plus grande ville et capitale économique de la Côte d'Ivoire, accueillie par le Réseau Ivoirien de Télécommunication pour l'Enseignement et la Recherche (RITER), le Réseau National de Recherche et d'Education et l'Université Virtuelle de Côte d'Ivoire (UVCI), l'institution publique qui comble les lacunes de l'enseignement supérieur dans le pays sous les auspices du Ministère de l'Enseignement Supérieur et de la Recherche.
Le thème de la conférence est : "La science ouverte en Afrique - Connecter les points", avec les sous-thèmes suivants :
Stratégies de science ouverte - politiques, gouvernance et leadership
Infrastructure de communication scientifique - outils, plateformes et services.
Renforcement des capacités - formation, communication et partenariats.
Toutes les sessions sont avec interprétation en anglais et en français.
---
English
---

WACREN is organising its 7th annual conference from 25 to 29 April 2022 on the banks of the Ebrié Lagoon in Abidjan, the largest city and economic capital of Côte d'Ivoire, hosted by the Réseau Ivoirien de Télécommunication pour l'Enseignement et la Recherche (RITER), the National Research and Education Network and the Virtual University of Côte d'Ivoire (UVCI), the public institution that fills the gaps in higher education in the country under the auspices of the Ministry of Higher Education and Research.
The theme of the conference is: "Open Science in Africa - Connecting the Dots", with the following sub-themes
Open science strategies - policies, governance and leadership
Science communication infrastructure - tools, platforms and services.
Capacity building - training, communication and partnerships.
All sessions will be interpreted into English and French.